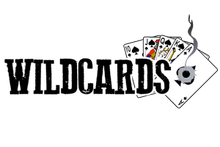 Wildcards is a weekly web series of improvisers, actors, and gamers playing Deadlands Reloaded. The series follows a party of four characters ostensibly searching for a mysterious man known only as The Baron. The series airs live on the Saving Throw Show Twitch channel on Fridays at 8pm (Pacific time), and episodes are archived on their YouTube . The series began on March 31, 2017 with "Episode 0 - Character Creation" (1x00).
Plot
For more information see Wildcards (episodes)
The story revolves around...
Characters
For a complete list of NPCs, see Wildcards (NPCs).
Main Cast
Guest Stars